Radish is a root vegetable famous for its sweet, pungent and juicy nature. This veggie comes in different colours like black, purple, red and white. When it comes to shape, they are round or cylindrical and long. The good thing about this vegetable is that you can eat them pickled, cooked or even raw. Even, manufacturers use radish for extracting radish oil helpful in many health applications and many other products.
Why should you include radish in your diet?
The crucial health benefits of Radish make it the essential addition to the diet of most people. So, here are the positive health benefits that necessitate the inclusion of this vegetable in your regular diet: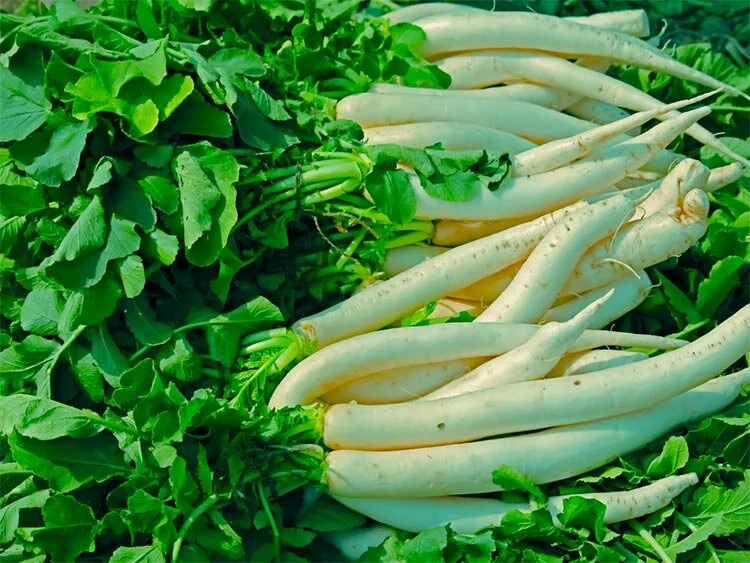 Good for hydration:
You should include more of this veggie during summer. It will safeguard your body from dehydration due to sweat. The reason is the high water content in radish. So, keep yourself hydrated by taking more radishes in summer.
Ideal for skin health and hair:
If you make it a habit of drinking radish juice every day, you will give a special boost to your skin to stay healthy. The reason is that nutrients present in the vegetable. Yes, it is rich in phosphorus, zinc and vitamin C. Further, it safeguards your body from rashes, pimples, acne and dryness as well. Even, you can make this vegetable as a paste and can apply it to your face to get a clear skin. Further, it is also helpful for hair in the removal of dandruff, for strengthening the root and even for preventing hair loss.
Rich in nutrients:
You are here on this page because you wanted to know about the nutrient content in Radish. Here, you should know that the red radish is full of nutrients like vitamin K, B6, C, A and E. Further, it is high in manganese, iron, calcium, copper, magnesium, phosphorous, potassium, zinc, and fibre. All these nutrients will contribute to a healthy you.
Maintains healthy metabolism:
You know that a healthy metabolism is crucial to keep your body weight at an optimal level. This root vegetable is friendly to your digestive system. So, it will keep nausea, gastric issues, obesity, and acidity at bay. Further, it will maintain the right metabolism level in your body to keep your weight at healthy levels.
Strengthens blood vessels:
Do you know that radish can play a crucial role in collagen generation? By doing so, it will boost your blood vessels and will bring down the chances of atherosclerosis.
Improves immunity:
Due to its richness in the vitamin C, this veggie will help with enhancing your resistance. It means that with the regular inclusion of this vegetable in your diet, you can stay protected against a cough and a common cold. It will reduce inflammation and will fight against the damages caused by free radicals with the regular inclusion in your diet.
Controls blood pressure:
With the potassium content in radish, it will help with lowering the blood pressure levels naturally. This nutrient will also help with keeping your blood flow under control. Ayurveda believes that this vegetable will have a cooling effect on the blood.
Safeguards your heart:
Radishes contain anthocyanin, a substance that will keep the healthy functioning of the heart. By ensuring the nourishing operation of the heart, it will prevent many heart-related ailments.
Rich in fibre:
You know that foods rich in fibre content should be included in the diet on a regular basis to prevent constipation and other digestive issues. With its richness in fibre, radish will also help with regulating bile production. Further, it will safeguard your gallbladder and liver, and it will also rectify water retention.
So, for these reasons, you should include radish in your diet on a regular basis.